Lady Pirate Basketball Boosters meeting - Tuesday, Dec. 9th - 7:30 p.m. - Room 161
Blue Pirate Basketball @ Central Tip - Off Tournament
Friday, Dec. 5th
6:00 JV's: Penns Valley vs. Williamsburg
7:30 Varsity: Penns Valley vs. Williamsburg
Saturday, Dec. 6th
6:00 JV's Williamsburg vs. Central
7:30 Varsity: Williamsburg vs. Central
Congratulations to our 5th and 6th grade Reading Competition team for winning 1st place at the IU08 Reading Competition at Bellwood High School on November 20, 2014! Team members include: Josey Fetters, Allee England, Olivia Aurandt, Garrett Nicewonger, Gabe Mingle, Taylor Uplinger, Krista Simpson, Grace Strayer and Cyrus Simmons.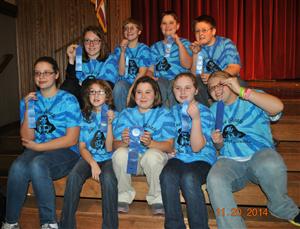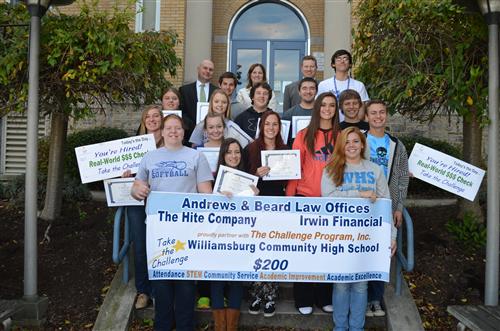 Pictured here are 2013/2014 winners of The Challenge Program, Inc. awards and participating sponsors. Front Row, left to right: Kadyi Brubaker, student volunteer; Caitlynn Fonseca, student volunteer. Second Row: Carly England, Junior Academic Excellence; Maggie Sukala, Junior Community Service; Lydia Hearn, Sophomore STEM; Haley England, Junior Academic Improvement; Madison Detwiler, student volunteer; Roy Lynn, student volunteer. Third Row: Kayla Baker, Junior STEM; Camryn Bookhammer, Sophomore Academic Excellence; Wyatt Everhart, Sophomore Academic Improvement; Owen Brantner, Sophomore Attendance; Jacob Lott, student volunteer. Fourth Row: Cody Kensinger, Junior Attendance; Peyton Brown, Sophomore Community Service. Back Row: Brian Irwin with sponsor Irwin Financial; Charissa Krumenacker with sponsor The Hite Company; and Brendan Moran with sponsor Andrews & Beard Law Offices.
The 2013-2014 Yearbooks have arrived! Class of 2014 can pick up their yearbooks in the High School office. Students wishing to purchase or pick up their yearbook should see Miss Waddington. Yearbooks can be purchased for the price of $55.